Wizards
Wizards allow to execute complex operations sequentially (step by step). The installation procedure is a demonstrative example of the use of wizards. Wizards implement analogical functionality with some specifics of the XAF platform.
Key features:
Wizard

is an analog of the PopupWindowShowAction. This type of Action is useful when you want a user to input several parameters in a popup dialog before an Action is executed. The difference between them is that the

Wizard

allows to make a number of sequential steps for editing object's parameters. In addition to this,

Wizard

allows to pass some steps according to the specific conditions.

Any

Wizard

works in a pop-up window.

Wizard

steps are shown as the Detail View for one object type.

At the finish of the

Wizard

steps there are two variants: execute Action or cancel execution.
To see the Wizards in action, refer to the Wizards|Templates and Implementations section in the Feature Center demo installed with Xafari.
Windows Forms: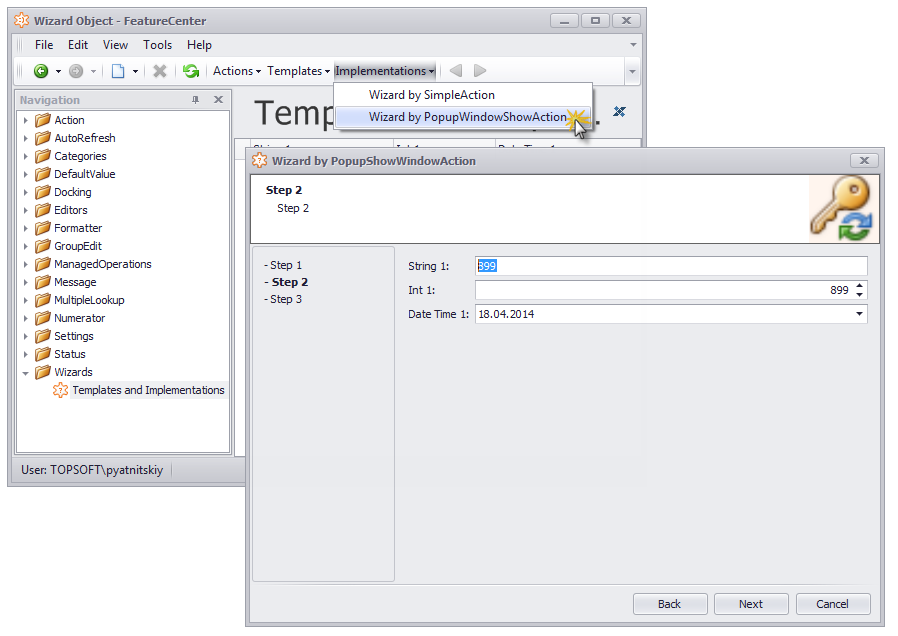 ASP.NET:
The Xafari technology of Wizards includes a number of advanced features:
Supported both in Win and Web platforms.

There is 4 templates of displaying.

Using a new type of action - WizardAction. It is a PopupWindowShowAction descendant.

You can customize Wizard properties in the VS designer and in the Application Model.

The View for each step of the Wizard generated automaticaly in the Application Model.

Conditional jumps between the Wizard steps are implemented.

For access and control Wizard steps in code special events is exposed.